Imagine stepping into a world where history comes alive at every corner, where iconic architecture stands tall against the dazzling cityscape, and where the rhythm of urban life intertwines with the echoes of the past. Welcome to the Chicago Loop, a neighborhood that whispers stories of yesteryears and beckons you to uncover its captivating heritage.
From the legendary Art Institute of Chicago to the iconic Cloud Gate sculpture, this article will take you on a journey through the historic charm of the Chicago Loop, providing a glimpse into its vibrant past and offering tips on how to make the most of your visit. So put on your walking shoes and get ready to soak in the enchantment of this vibrant city center.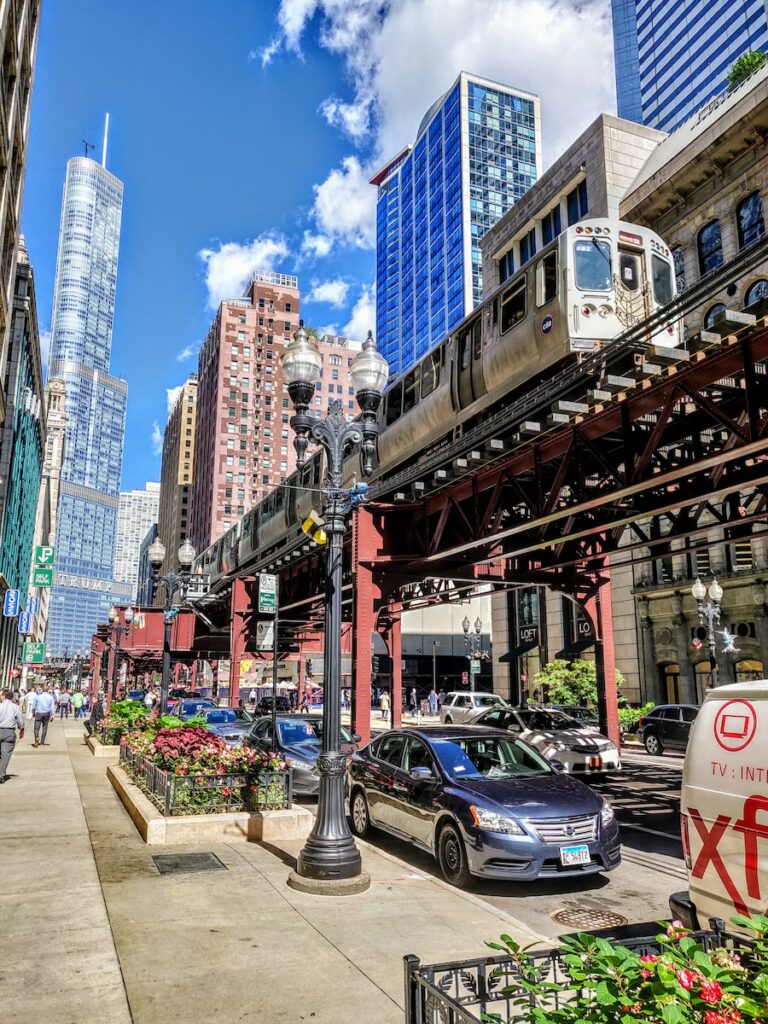 The History of Chicago Loop
Chicago Loop is the central business district of Chicago, bordered by the Chicago River to the north and west, and Lake Michigan to the east. It is a bustling hub of commerce, culture, and history. Let's take a journey through time and explore the rich history of this iconic neighborhood.
Early Settlement
The area that is now Chicago Loop was initially settled by Native American tribes, such as the Potawatomi and Miami, who recognized its strategic location at the mouth of the Chicago River. In the early 1800s, European settlers began to arrive, and in 1830, Chicago was officially incorporated as a town.
The Great Chicago Fire
One of the most significant events in Chicago Loop's history was the Great Chicago Fire of 1871. The fire started in a small barn and quickly spread, destroying much of the city, including a large portion of the central business district. Despite the devastation, the Chicago Loop rose from the ashes, determined to rebuild.
Post-Fire Reconstruction
After the fire, Chicago Loop underwent a remarkable transformation. The city embraced modern construction techniques and urban planning principles, resulting in a rapid and ambitious reconstruction effort. The architectural style shifted towards the use of steel and concrete, marking Chicago Loop as a pioneer in the development of skyscrapers.
Rise of Skyscrapers
The Chicago Loop is renowned for its impressive skyline, adorned with towering skyscrapers. This skyline owes its existence to the Chicago School of Architecture, which emerged in the late 19th century. Architects like Louis Sullivan and Daniel Burnham revolutionized building design by using steel frames and large windows, creating the distinctive look of Chicago Loop's skyscrapers.
Architectural Marvels
Chicago Loop is a treasure trove of architectural marvels that showcase the city's rich history and innovative design. Let's explore some of the most iconic buildings in the neighborhood.
Willis Tower
Formerly known as the Sears Tower, the Willis Tower stands tall at 1,450 feet and held the title of the tallest building in the world for 25 years. Its distinct black exterior and the Skydeck on the 103rd floor, offering breathtaking views of the city, make it a must-visit attraction.
Chicago Board of Trade Building
The Chicago Board of Trade Building is a masterpiece of Art Deco design. Completed in 1930, it features a stunning 31-story tower adorned with intricate carvings and sculptures. The iconic statue of Ceres, the goddess of agriculture, crowns the building, symbolizing Chicago's role as a center of trade.
Tribune Tower
The Tribune Tower, home to the Chicago Tribune newspaper, is known for its striking Gothic Revival architecture. Completed in 1925, it boasts a magnificent façade adorned with numerous stones from famous landmarks worldwide, including the Great Wall of China and the Parthenon.
The Rookery Building
The Rookery Building is a true architectural gem. Designed by Daniel Burnham and John Wellborn Root, it combines the elegance of the Chicago School with the grandeur of the Burnham and Root style. The interior features a stunning light court, adorned with ornate ironwork and a glass ceiling.
Cultural and Artistic Heritage
Chicago Loop is not only a hub of business and architecture but also a vibrant center of culture and art. Let's explore some of the cultural and artistic institutions that add to the neighborhood's charm.
Art Institute of Chicago
The Art Institute of Chicago is a world-renowned museum, showcasing an extensive collection of artworks from across the globe. It houses masterpieces by artists such as Vincent van Gogh, Pablo Picasso, and Grant Wood. The museum also offers educational programs and special exhibitions, making it a haven for art enthusiasts.
Chicago Cultural Center
Located in the historic landmark of the former Chicago Public Library, the Chicago Cultural Center is a hub of creativity and cultural exchange. It hosts a variety of events, including art exhibitions, music performances, and lectures. Don't miss the stunning Tiffany glass dome, a true work of art.
Symphony Center
For music lovers, Symphony Center is a must-visit destination. Home to the renowned Chicago Symphony Orchestra, this magnificent concert hall hosts world-class performances throughout the year. From classical symphonies to contemporary pieces, the Symphony Center delights audiences with its exceptional acoustics and talented musicians.
The Historic Theater District
The Theater District in Chicago Loop is a vibrant hub for performing arts. From Broadway musicals to drama and comedy shows, there is something for everyone. Stepping into one of the historic theaters, such as the Oriental Theatre or the Cadillac Palace Theatre, transports you to a world of captivating performances and memorable experiences.
This image is property of images.unsplash.com.
Millennium Park
No visit to Chicago Loop is complete without exploring Millennium Park, a 24.5-acre urban oasis that seamlessly blends art, architecture, and nature. Let's discover some of the park's most iconic attractions.
Cloud Gate
Cloud Gate, affectionately known as "The Bean," is a reflective sculpture that has become a symbol of Chicago. Designed by British artist Anish Kapoor, its curved shiny surface reflects the city skyline, creating unique photo opportunities and a sense of wonder. Don't forget to take a selfie with this iconic artwork!
Crown Fountain
The Crown Fountain is an interactive work of art that combines digital technology and water. Twin glass towers project images of Chicago residents' faces, which intermittently spout water into a reflecting pool below. It's a favorite spot for cooling off in the summer and capturing fun moments on camera.
Millennium Monument
The Millennium Monument, located at the center of Millennium Park, is a tribute to Chicago's founders. The monument features bronze urns that contain soil from significant sites around the world, emphasizing the city's global connections. It serves as a reminder of Chicago's rich history and its place in the world.
Jay Pritzker Pavilion
Designed by renowned architect Frank Gehry, the Jay Pritzker Pavilion is an architectural masterpiece. This outdoor music venue hosts a variety of concerts and events, ranging from classical music performances to popular music festivals. With its stunning design and excellent acoustics, it offers a unique and memorable experience for music lovers.
Grant Park
Adjacent to Millennium Park lies Grant Park, often referred to as "Chicago's front yard." This expansive green space offers a multitude of attractions and recreational opportunities. Let's explore some of the highlights of Grant Park.
Buckingham Fountain
Buckingham Fountain is a majestic centerpiece of Grant Park. Inspired by the Latona Fountain at the Palace of Versailles, it features an impressive water display that mesmerizes visitors. The fountain lights up at night, creating a magical atmosphere that is perfect for an evening stroll.
Museum Campus
Museum Campus is a must-visit destination for science and natural history enthusiasts. It is home to three world-class museums: the Field Museum, the Shedd Aquarium, and the Adler Planetarium. Whether you are fascinated by dinosaurs, marine life, or the wonders of the universe, Museum Campus has something to captivate everyone.
Maggie Daley Park
If you're visiting Chicago Loop with children, Maggie Daley Park is a must-see. This expansive park features playgrounds, rock climbing walls, mini-golf, and an ice skating ribbon in the winter. Let your little ones run around and explore while you soak in the beautiful surroundings.
Grant Park Conservatory
For a tranquil escape from the bustling city, head to the Grant Park Conservatory. This botanical oasis is a sanctuary of lush greenery and vibrant flowers. With its stunning displays and tranquil atmosphere, it's the perfect place to unwind and connect with nature.
Magnificent Mile
Stretching along North Michigan Avenue, the Magnificent Mile is a shopper's paradise and a hub of iconic landmarks. Let's explore what this vibrant district has to offer.
Shopping Paradise
The Magnificent Mile is famous for its high-end boutiques, department stores, and luxury brands. From world-renowned fashion houses to unique specialty shops, you'll find everything you need in this premier shopping destination. Whether you're searching for designer clothing, jewelry, or vintage finds, the Magnificent Mile has it all.
Iconic Landmarks
Aside from shopping, the Magnificent Mile is also home to several iconic landmarks. The historic Chicago Water Tower and Pumping Station, surviving the Great Chicago Fire, stands as a symbol of resilience. The John Hancock Center, with its observatory providing panoramic views of the city, is another notable landmark that should not be missed.
Historic Landmarks
Chicago Loop is steeped in history, and its historic landmarks offer a glimpse into the city's heritage. Let's explore some of these captivating sites.
Chicago Cultural Mile
The Chicago Cultural Mile is a stretch of Michigan Avenue that showcases some of the city's most iconic cultural institutions and landmarks. From the Art Institute of Chicago to Orchestra Hall, this cultural corridor is a treasure trove of history and artistic brilliance.
Chicago Theater
The Chicago Theater is a true architectural gem. Featuring a stunning marquee and a grand interior, this historic venue has hosted countless performances by renowned artists. Catch a show or simply admire the beautiful architecture of this iconic theater.
The Wrigley Building
The Wrigley Building is an architectural masterpiece that stands as a testament to Chicago's rich history. Completed in 1924, it was one of the first major office buildings on Michigan Avenue. With its iconic clock tower and elegant design, the Wrigley Building is a beloved landmark in Chicago Loop.
The Palmer House Hilton
The Palmer House Hilton is not only a luxurious hotel but also a historic landmark. Built by Potter Palmer in 1871, it has welcomed guests, including presidents and celebrities, for over a century. The hotel's grand lobby and stunning architecture make it a must-visit destination for history and architecture buffs.
Dining and Entertainment
Chicago Loop offers a diverse range of dining options and entertainment venues that cater to all tastes. Let's explore some of the highlights.
Classic Chicago Eateries
From deep-dish pizza to Chicago-style hot dogs, Chicago Loop is a food lover's paradise. Indulge in iconic dishes at establishments like Lou Malnati's Pizzeria and Portillo's. Explore the city's diverse culinary scene, which offers everything from upscale dining experiences to casual street-food joints.
The Theater District
Chicago Loop's Theater District is a hub for Broadway shows, musicals, and live performances. Take in a memorable theater experience at one of the district's historic venues, such as the Oriental Theatre or the Cadillac Palace Theatre. Whether you're a theater aficionado or a casual theatergoer, there is always a show worth seeing in this vibrant neighborhood.
Nightlife and Bars
When the sun sets, Chicago Loop comes alive with its vibrant nightlife and bustling bar scene. Whether you're looking for a cozy speakeasy, a rooftop bar with stunning views, or a lively nightclub with live music, you'll find it all in this energetic neighborhood. Explore the diverse nightlife options and experience the vibrant atmosphere that Chicago Loop has to offer.
Shopping Experience
Chicago Loop is a shopper's paradise, with a wide range of shopping destinations to suit all tastes and budgets. Let's explore some of the must-visit shopping spots in the neighborhood.
State Street
State Street is an iconic shopping destination in Chicago Loop. From flagship department stores like Macy's to specialty boutiques and renowned fashion brands, you'll find a diverse range of shopping options along this bustling street. Take a leisurely stroll and indulge in some retail therapy in this vibrant shopping district.
Block 37
Block 37 is a stylish shopping center that features a mix of high-end retailers, luxury brands, and unique boutiques. With its sleek and modern design, it offers a sophisticated shopping experience. Browse the latest fashion trends, discover artisanal products, or treat yourself to a pampering session at one of the beauty salons.
Jewelers Row
Jewelers Row is a historic district that is home to an array of jewelry stores and diamond merchants. Whether you're in the market for an engagement ring or simply want to admire the dazzling displays, Jewelers Row is the place to go. Immerse yourself in the world of exquisite craftsmanship and unparalleled beauty.
Pedway System
The Pedway System is an underground network of tunnels and walkways that connects various buildings in downtown Chicago, including the Chicago Loop. Offering shelter from inclement weather, this unique system also contains a mix of shops, restaurants, and services. Explore the Pedway System and discover hidden gems beneath the bustling streets of Chicago.
Transportation in Chicago Loop
Getting around in Chicago Loop is a breeze, thanks to its efficient transportation options. Let's explore the various ways to navigate the neighborhood and beyond.
Public Transportation
Chicago Loop is well-served by public transportation. The 'L' train system provides convenient access to different neighborhoods within the city, with several stations located in the Loop. Additionally, buses offer a comprehensive network that connects to various parts of the city. Utilize the public transportation options to explore Chicago Loop and beyond easily.
Bike Sharing
Bike-sharing programs, such as Divvy, offer a fun and eco-friendly way to explore Chicago Loop. Rent a bike and pedal through the neighborhood's streets, parks, and lakefront trails. Enjoy the fresh air while soaking in the sights and sounds of Chicago Loop's vibrant surroundings.
Chicago Water Taxi
For a unique transportation experience, hop on a Chicago Water Taxi. Connecting different points along the Chicago River, the water taxi offers a scenic and leisurely way to get around. Enjoy the breathtaking views of the city's iconic architecture as you cruise along the river.
Parking Facilities
If you prefer to drive in Chicago Loop, various parking facilities are available. From street parking to parking garages, you'll find ample options to safely park your vehicle while exploring the neighborhood. Keep in mind that parking rates vary, so it's a good idea to check in advance and plan accordingly.
Chicago Loop is a neighborhood that seamlessly blends history, culture, and modernity. From its rich history and architectural wonders to its cultural institutions and vibrant atmosphere, there is always something new to discover in this iconic district. Explore Chicago Loop and immerse yourself in its unique charm and energy. You're sure to leave with unforgettable memories and a longing to return.
FAQs
Where is the Chicago Loop located?
The Chicago Loop is the central business district of Chicago, bordered by the Chicago River to the north and west, and Lake Michigan to the east.
What is the Chicago Loop known for?
The Chicago Loop is known for its rich history, iconic architecture, cultural institutions, shopping destinations, and vibrant nightlife.
What are some must-visit attractions in Chicago Loop?
Some must-visit attractions in Chicago Loop include Millennium Park, Grant Park, the Art Institute of Chicago, the Magnificent Mile, and the Chicago Theater.
How can I get around Chicago Loop?
Chicago Loop offers various transportation options, including public transportation (such as the 'L' train and buses), bike sharing programs, water taxis, and parking facilities for those who prefer to drive.
What is the best time to visit Chicago Loop?
Chicago Loop can be enjoyed year-round, but the summer months (June to August) offer pleasant weather, outdoor festivals, and events. However, visiting during the winter months can provide a unique experience with holiday lights and ice skating in Millennium Park.
Are there dining options in Chicago Loop?
Yes, Chicago Loop offers a diverse range of dining options, from classic Chicago eateries to upscale dining experiences. Whether you're craving deep-dish pizza, Chicago-style hot dogs, or international cuisine, you'll find something to suit your taste.
Recommended Chicago Passes & Tickets