Best Things to Do in Chicago
If you're looking for an unforgettable experience in the Windy City, look no further than Chicago! With its vibrant culture, stunning architecture, and incredible food scene, there's something for everyone to enjoy. From exploring iconic landmarks like Millennium Park and Navy Pier to indulging in deep-dish pizza and attending world-class events, Chicago is a city that never fails to impress.
Whether you're a local or a tourist, this article will guide you through the best things to do in Chicago, ensuring your visit is filled with adventure and excitement. So, grab your walking shoes and get ready to immerse yourself in the charm of this incredible city!
Explore the City's Iconic Landmarks
The Magnificent Mile
One of the most famous streets in Chicago, the Magnificent Mile is a shopper's paradise. Stretching for approximately one mile along Michigan Avenue, this iconic strip is lined with upscale boutiques, department stores, and luxury retailers. Whether you're looking for high-end fashion, exquisite jewelry, or the latest gadgets, you'll find it all here. The Magnificent Mile is also home to renowned landmarks such as the historic Water Tower Place and the John Hancock Center. Don't forget to take a stroll down the bustling sidewalks and admire the beautiful architecture that surrounds this vibrant shopping destination.
Millennium Park
Located in the heart of downtown Chicago, Millennium Park is a must-visit destination for both locals and tourists. This expansive green space is home to several iconic attractions, including the famous Cloud Gate sculpture, also known as "The Bean." Designed by artist Anish Kapoor, this shiny silver sculpture reflects the city's skyline and provides a unique photo opportunity. Millennium Park is also known for its vibrant outdoor concerts, art installations, and the serene Lurie Garden. With its beautiful landscaping, modern architecture, and lively atmosphere, this urban oasis is the perfect place to relax and soak in the city's beauty.
Navy Pier
For a fun-filled day by Lake Michigan, head to Navy Pier. This iconic Chicago landmark is a hub of entertainment, dining, and activities for visitors of all ages. Take a ride on the Ferris wheel for a breathtaking view of the city's skyline, catch a movie at the IMAX theater, or test your skills at the arcade. Navy Pier also offers boat tours and cruises, giving you the chance to experience the beauty of Lake Michigan from a different perspective. With its lively atmosphere, fireworks displays, and seasonal events, Navy Pier is a popular destination for locals and tourists alike.
Willis Tower Skydeck
No visit to Chicago is complete without a trip to the Willis Tower Skydeck. Formerly known as the Sears Tower, this iconic skyscraper offers breathtaking views of the city and beyond from its observation deck on the 103rd floor. Step into one of the glass Skydeck Ledge boxes and experience the thrill of standing 1,353 feet above ground, with only a thin layer of glass separating you from the city below. The views are truly awe-inspiring, showcasing Chicago's impressive architecture, sprawling cityscape, and the glistening waters of Lake Michigan.
Art Institute of Chicago
Home to one of the largest and most impressive art collections in the world, the Art Institute of Chicago is a must-visit for art enthusiasts. With over 300,000 works of art spanning thousands of years, the museum showcases an incredible variety of artistic styles and mediums. From renowned masterpieces such as Grant Wood's "American Gothic" to ancient Egyptian artifacts, there is something to captivate every visitor. The museum also offers educational programs, guided tours, and special exhibitions, ensuring there is always something new and exciting to discover.
Buckingham Fountain

Situated in Grant Park, the Buckingham Fountain is one of Chicago's most iconic landmarks. This stunning fountain, designed in the Beaux-Arts style, features a central jet shooting water up to 150 feet in the air, surrounded by four pairs of sea horses representing the Great Lakes. The fountain's beautiful displays, accompanied by music and lights, draw crowds throughout the year. During the summer months, visitors can also enjoy water shows that choreograph the fountain's jets to music. Take a leisurely stroll through Grant Park, admire the fountain's grandeur, and snap some memorable photos.
Grant Park
Known as "Chicago's front yard," Grant Park is a sprawling green space that offers a tranquil escape from the bustling city streets. The park is home to several iconic landmarks, including Millennium Park, Buckingham Fountain, and the Art Institute of Chicago. With its beautifully landscaped gardens, scenic lakefront views, and wide-open spaces, Grant Park is a popular destination for picnicking, jogging, and outdoor activities. It also hosts numerous events and festivals throughout the year, including Taste of Chicago, Lollapalooza, and the Grant Park Music Festival.
Wrigley Field
For sports enthusiasts, a visit to Wrigley Field is a must. As the second-oldest baseball park in the United States, this historic stadium has been home to the Chicago Cubs since 1914. Catching a game at Wrigley Field is an experience like no other, as fans gather to cheer on their beloved team while enjoying the lively atmosphere and iconic views of the city skyline. If you're not able to attend a game, take a guided tour of the stadium and learn about its rich history and legendary moments in baseball.
Chicago Riverwalk
The Chicago Riverwalk is a picturesque waterfront promenade that spans 1.25 miles along the Chicago River. With its scenic views, vibrant atmosphere, and numerous dining and entertainment options, the Riverwalk is a perfect place to spend a leisurely afternoon. Take a stroll, rent a kayak or paddleboard, or simply relax and enjoy the beautiful surroundings. The Riverwalk is also home to a variety of restaurants and bars, offering outdoor seating and stunning views of the river. Whether you're looking for a romantic date spot or a lively place to socialize, the Chicago Riverwalk has it all.
The Bean at Cloud Gate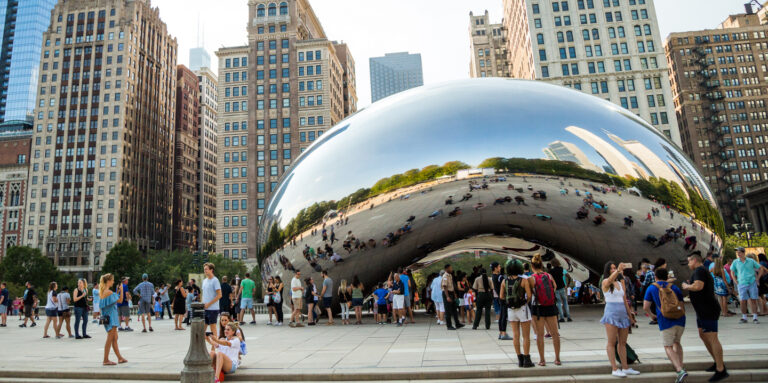 Located in Millennium Park, the Bean, officially known as Cloud Gate, is an iconic sculpture that has become synonymous with Chicago. Designed by renowned artist Anish Kapoor, this polished stainless steel structure reflects the city's skyline and the surrounding park, creating intriguing and ever-changing reflections. The Bean has quickly become a popular spot for tourists and locals alike, with visitors often capturing their distorted reflections in photos. Whether you choose to admire it from a distance or walk underneath its shiny surface, the Bean is a must-see attraction that embodies the creativity and artistic spirit of Chicago.
Immerse Yourself in Cultural Experiences
Museum Campus
Located on the shores of Lake Michigan, Museum Campus is a cultural hub in Chicago. This 57-acre park is home to some of the city's most renowned museums, including the Field Museum, the Shedd Aquarium, and the Adler Planetarium.
Step back in time and explore the rich natural history at the Field Museum, where you can see Sue, the largest and most complete Tyrannosaurus rex skeleton ever discovered. Dive into the underwater world at the Shedd Aquarium and come face-to-face with a mesmerizing variety of marine life. At the Adler Planetarium, embark on a journey through space and learn about the wonders of the universe. With its diverse range of educational attractions, the Museum Campus offers something for everyone to enjoy.
FAQs
What are the must-see landmarks in Chicago?
Some of the must-see landmarks in Chicago include the Willis Tower, Millennium Park, Navy Pier, and the Museum of Science and Industry.
Where can I find the best deep-dish pizza?
Some of the best places to find deep-dish pizza in Chicago are Giordano's and Lou Malnati's Pizzeria.
What are the top cultural festivals in Chicago?
Some of the top cultural festivals in Chicago include the Chicago Blues Festival, the Chicago Jazz Festival, and the Taste of Chicago.
Which neighborhoods are worth exploring in Chicago?
Some of the neighborhoods worth exploring in Chicago are Andersonville, Logan Square, and Pilsen.
Where can I experience live blues and jazz in Chicago?
Some of the best places to experience live blues and jazz in Chicago are Andy's Jazz Club & Restaurant, Buddy Guy's Legends, and the House of Blues.
What are the best outdoor activities to do in Chicago?
Some of the best outdoor activities to do in Chicago include visiting the Lincoln Park Zoo, taking a stroll along the Lakefront Trail, and exploring the city's many parks such as Grant Park.
Which museums are family-friendly in Chicago?
Some of the family-friendly museums in Chicago include the Museum of Science and Industry, the Field Museum, and the Shedd Aquarium.
What is the best time to visit Chicago?
The best time to visit Chicago is during late spring (April to May) or early fall (September to October) when temperatures are mild, and crowds are thinner.
Are there any unique shopping experiences in Chicago?
Some unique shopping experiences in Chicago include visiting the famous department store, Macy's on State Street, exploring local boutiques at the historic Water Tower Place, or checking out vintage shops along Milwaukee Avenue
How can I find discounted tickets for shows and events in Chicago?
You can find discounted tickets for shows and events in Chicago on websites like Groupon, Goldstar, TodayTix or Below.
Recommended Reading & Products
Recommended Chicago Passes & Tickets