Looking to plan a romantic getaway for you and your partner in Chicago? Look no further! This article will provide you with all the information you need to create a memorable and romantic escape in the Windy City. Whether you're looking for a cozy cabin in the woods, a luxurious hotel in the heart of downtown, or a charming bed and breakfast in a historic neighborhood, we've got you covered. Get ready to ignite the flame of romance with our top recommendations for romantic getaways in Chicago.
This image is property of images.unsplash.com.
Beach Destinations
Lake Michigan
If you're looking for a beach getaway that's close to Chicago, Lake Michigan is the perfect choice. With its crystal clear waters and sandy shores, this Great Lake offers a picturesque setting for a romantic retreat. Whether you prefer lounging on the beach, swimming in the refreshing water, or taking a romantic stroll along the shoreline, Lake Michigan has it all.
You can choose from a variety of beach towns along the coast of Lake Michigan, each with its own unique charm. From the bustling city beaches of Chicago to the quaint towns of Saugatuck and South Haven, there's something for every couple to enjoy. Spend your days soaking up the sun, exploring charming lakeside towns, or indulging in water sports like kayaking and paddleboarding.
Lake Michigan is not only known for its stunning beaches but also for its breathtaking sunsets. Imagine sitting hand in hand with your partner, watching the sun dip below the horizon, painting the sky in vibrant hues of orange and pink. It's a truly romantic experience that will create memories to last a lifetime.
Indiana Dunes National Park
Located just a short drive away from Chicago, Indiana Dunes National Park offers a unique beach destination for couples seeking a romantic getaway. This national park boasts over 15,000 acres of stunning sand dunes, pristine beaches, and diverse ecosystems.
Explore miles of hiking trails that meander through the dunes, revealing stunning views of Lake Michigan and the surrounding landscape. For a more leisurely experience, pack a picnic and relax on the beach, listening to the soothing sounds of the waves crashing against the shore.
If you're feeling adventurous, try your hand at dune climbing or rent a kayak to explore the park's waterways. Indiana Dunes National Park is also a popular spot for birdwatching, so bring your binoculars and see how many species you can spot together.
With its natural beauty and tranquil atmosphere, Indiana Dunes National Park is the ideal beach destination for couples looking to escape the hustle and bustle of the city and reconnect with nature.
Urban Retreats
Downtown Chicago Hotels
For couples who prefer an urban retreat, downtown Chicago is the perfect destination. This vibrant city offers a wide range of luxurious hotels that are sure to cater to your every need. From boutique hotels nestled in historic buildings to modern skyscrapers boasting panoramic views of the city, there's a hotel to suit every couple's taste.
Downtown Chicago is home to world-class shopping, renowned restaurants, and a variety of cultural attractions. Take a romantic stroll along the Magnificent Mile, shop at designer boutiques, and enjoy a romantic dinner at one of the city's many Michelin-starred restaurants.
If you're looking to add a touch of romance to your stay, consider booking a room with a view of Lake Michigan or the iconic Chicago skyline. Watch the city come alive at night as the lights twinkle and reflect off the water, creating a magical ambiance.
River North Neighborhood
Located just north of downtown Chicago, the River North neighborhood offers a unique blend of art, culture, and entertainment, making it the perfect urban retreat for couples. This trendy neighborhood is known for its vibrant nightlife, art galleries, and upscale dining options.
Spend your days exploring the neighborhood's many art galleries and museums, including the iconic Museum of Contemporary Art. Take a romantic stroll along the Chicago Riverwalk, stopping to admire the breathtaking views of the city skyline.
In the evening, immerse yourself in the neighborhood's buzzing nightlife. From rooftop bars with panoramic views to intimate jazz clubs, there's no shortage of options for a romantic night out in River North. Indulge in gourmet cuisine, sip on craft cocktails, and dance the night away with your partner.
Charming Bed and Breakfasts
Galena
Escape the city and immerse yourself in the charm of Galena, a picturesque town located in the northwest corner of Illinois. Known for its well-preserved 19th-century buildings and historic Main Street, Galena offers a romantic setting for couples looking for a charming bed-and-breakfast getaway.
Stay in one of Galena's many historic bed and breakfasts, where you'll be treated to personalized service and cozy accommodations. Wake up to a delicious homemade breakfast served in a charming dining room, then spend your days exploring the town's boutiques, art galleries, and antique shops.
For a truly unforgettable experience, take a scenic hot air balloon ride over the rolling hills and meandering rivers of the Galena countryside. From high above, you'll be able to take in breathtaking views and create lifelong memories together.
Door County
Located in northeastern Wisconsin, Door County is a hidden gem that offers a peaceful and romantic escape for couples. This peninsula is known for its charming small towns, breathtaking coastal scenery, and vibrant arts scene.
Choose from a variety of charming bed and breakfasts scattered throughout Door County, each offering its own unique charm and character. Wake up to the sound of birds chirping and enjoy a gourmet breakfast prepared with locally sourced ingredients.
During the day, explore the peninsula's quaint towns, visit art galleries and boutique shops, or take a leisurely bike ride along scenic coastal roads. For nature enthusiasts, Door County offers numerous opportunities for hiking, birdwatching, and exploring the area's picturesque state parks.
As the sun sets, head to one of Door County's many waterfront restaurants and enjoy a romantic dinner with stunning views of Lake Michigan. Take a leisurely walk along the beach, hand in hand with your partner, and let the tranquil sounds of the waves wash away your worries.
Wine Country Escapes
Lake Geneva
Nestled in the heart of Wisconsin, Lake Geneva is a charming town that offers a perfect blend of natural beauty and luxurious amenities. Known for its pristine lake, historic mansions, and vibrant downtown, Lake Geneva is the ideal destination for a wine country escape.
Start your day with a visit to one of the area's many wineries, where you can sample a variety of award-winning wines made from locally grown grapes. Explore the vineyards, learn about the winemaking process, and take in the panoramic views of the countryside.
After a day of wine tasting, relax and unwind at one of Lake Geneva's luxurious resorts or boutique hotels. Indulge in a couples' massage at a spa, take a romantic sunset cruise on the lake, or simply enjoy a glass of wine on your private balcony overlooking the water.
Southwest Michigan Wine Trail
Just a short drive from Chicago, the Southwest Michigan Wine Trail offers a unique wine-country experience for couples. This picturesque region is known for its wineries, orchards, and beautiful Lake Michigan beaches.
Embark on a wine-tasting journey along the Southwest Michigan Wine Trail, where you can sample a wide variety of wines, from crisp whites to bold reds. Many wineries offer tours and tastings, allowing you to learn about the winemaking process and explore the vineyards.
After a day of wine tasting, relax and unwind at one of the area's charming bed and breakfasts or boutique hotels. Enjoy a romantic dinner at a local restaurant, stroll along the beach at sunset, or take a scenic drive along the lakeshore.
This image is property of images.unsplash.com.
Secluded Cabin Retreats
Starved Rock State Park
For couples seeking a secluded retreat surrounded by natural beauty, look no further than Starved Rock State Park. Located along the Illinois River, this stunning park offers over 13 miles of hiking trails, waterfalls, and breathtaking overlooks.
Stay in one of the park's cozy cabins, nestled among towering trees and surrounded by nature. Wake up to the peaceful sounds of birds chirping and spend your days exploring the park's trails, discovering hidden waterfalls, and taking in the panoramic views from the overlooks.
In the evening, cozy up by the fireplace in your cabin and enjoy a romantic dinner cooked together. Step outside and gaze at the stars in the clear night sky, far away from the hustle and bustle of the city.
Brown County State Park
Escape to the picturesque hills of southern Indiana and experience the serenity of Brown County State Park. Known for its rolling hills, dense forests, and scenic vistas, this park offers a tranquil setting for a secluded cabin retreat.
Choose from a variety of charming cabins nestled in the heart of the park, surrounded by towering trees and peaceful nature. Spend your days hiking through the park's numerous trails, enjoying a picnic by the lake, or exploring the quaint nearby town of Nashville.
Brown County State Park is also home to an artist colony, where you can browse through art galleries and watch local artisans at work. Take a scenic drive along the park's winding roads, marveling at the vibrant fall foliage or the blooming wildflowers in the spring.
Historic Getaways
Mackinac Island
Step back in time and experience the charm of Mackinac Island, a historic destination located in northern Michigan. This car-free island is known for its well-preserved Victorian architecture, horse-drawn carriages, and stunning natural beauty.
Stay in one of the island's historic hotels or bed and breakfasts, where you can immerse yourself in the island's rich history and charming ambiance. Wake up to the sound of horse hooves clip-clopping along the streets and enjoy a leisurely breakfast before exploring the island.
Rent bicycles and explore the island's scenic trails, visit historic sites like Fort Mackinac, or simply stroll along the picturesque waterfront. Be sure to indulge in a slice of Mackinac Island fudge, a sweet treat that the island is famous for.
At night, the island becomes even more enchanting, with the streets illuminated by the warm glow of gas lamps. Take a romantic carriage ride under the starlit sky or simply enjoy a quiet walk along the waterfront, taking in the peacefulness of the island.
Historic Route 66
For couples who love road trips and have a passion for history, a getaway along Historic Route 66 is a must. This iconic highway stretches from Chicago to Los Angeles, showcasing the beauty and charm of the American Southwest.
Start your journey in Chicago, where you can explore the historic Route 66 starting point and visit attractions like the Route 66 Museum. As you travel west, you'll pass through small towns and charming roadside attractions, such as the world's largest rocking chair in Fanning, Missouri, or the Wigwam Motel in Holbrook, Arizona.
As you drive along Historic Route 66, take your time to stop at roadside diners and enjoy classic American comfort food. Explore quirky shops, take photos with vintage roadside signs, and immerse yourself in the nostalgia of a bygone era.
This image is property of images.unsplash.com.
Outdoor Adventure
Door County Peninsula
For couples who love outdoor adventures, the Door County Peninsula in Wisconsin offers a wide range of activities to enjoy together. This scenic destination is known for its rugged coastline, picturesque lighthouses, and miles of hiking and biking trails.
Spend your days exploring the peninsula's numerous state parks, such as Peninsula State Park or Newport State Park, where you can hike through forests, kayak along the coastline, or relax on sandy beaches. For a unique experience, take a scenic ferry ride to Washington Island and explore its pristine nature and charming small-town atmosphere.
If you're looking for a thrill, try your hand at windsurfing or kiteboarding on Lake Michigan's waters. Or, rent a kayak or paddleboard and explore the tranquil bays and secluded coves of the peninsula.
Lake Geneva Canopy Tours
Located in Lake Geneva, Wisconsin, Lake Geneva Canopy Tours offers an exhilarating outdoor adventure for couples. This premier zipline and adventure park is nestled in the picturesque forests of southeastern Wisconsin, providing a scenic backdrop for your thrilling experience.
Embark on a zipline tour and soar through the treetops, taking in breathtaking views of the surrounding nature. Challenge yourselves on aerial adventure courses, featuring high ropes, suspension bridges, and other obstacles. End your adventure with a thrilling ride on a giant swing, where you can feel the adrenaline rush as you swing through the air.
Lake Geneva Canopy Tours is not only a source of excitement but also an opportunity to reconnect with nature. Learn about the area's ecology and conservation efforts as you explore the forest, immersing yourselves in the beauty of the natural world.
Spa and Wellness Retreats
Kohler Waters Spa
Located in Kohler, Wisconsin, the Kohler Waters Spa offers a luxurious and rejuvenating experience for couples seeking a wellness retreat. This world-class spa features a variety of treatments and amenities focused on relaxation and rejuvenation.
Indulge in couples' massages, facials, and body treatments, all tailored to your specific needs and preferences. Relax in thermal baths, whirlpools, and saunas, or take a dip in the stunning rooftop pool with panoramic views of the surrounding landscape.
The Kohler Waters Spa also offers wellness classes and workshops, where you can learn techniques to enhance your well-being and embrace a healthier lifestyle. From yoga and meditation to personal training and nutrition counseling, there's something for every couple to explore and enjoy.
Galena Day Spa
Nestled in the charming town of Galena, Illinois, the Galena Day Spa offers a peaceful and serene retreat for couples in need of relaxation. This boutique spa features a range of luxurious treatments designed to pamper and rejuvenate.
Choose from a variety of couples' massages, facials, and body wraps, all performed by experienced therapists using high-quality, natural products. Enjoy the tranquil ambiance of the spa as you unwind in the steam room or soak in a soothing bath filled with aromatic oils.
After your treatments, take a stroll through Galena's historic downtown, explore the town's shops and boutiques, or enjoy a romantic dinner at one of the local restaurants. Return to your accommodation feeling refreshed and renewed, ready to continue your romantic getaway.
Foodie Destinations
Chicago Food Tours
For couples who appreciate good food and love to explore new flavors, Chicago offers a vibrant culinary scene that is sure to satisfy any foodie's cravings. Take a food tour of the city and embark on a culinary adventure, tasting a variety of cuisines and dishes.
Explore Chicago's diverse neighborhoods, such as Chinatown, Little Italy, or Pilsen, and sample authentic dishes from around the world. Indulge in deep-dish pizza, try Chicago-style hot dogs, or savor gourmet chocolates at one of the city's renowned chocolatiers.
In addition to food tours, Chicago also offers numerous cooking classes and culinary experiences for couples. Learn how to make your own pasta from scratch, master the art of sushi rolling, or take a mixology class and learn how to create delicious cocktails together.
Madison Food Scene
Located just a few hours from Chicago, Madison, Wisconsin, is a hidden gem when it comes to foodie destinations. This vibrant city is home to a thriving farm-to-table culinary scene, with a plethora of restaurants, cafes, and farmers' markets to explore.
Take a culinary walking tour of Madison and discover the city's unique food culture. Sample locally sourced cheeses, taste craft beers from local breweries, and savor farm-fresh produce at the city's farmers' markets.
Madison is also home to a variety of ethnic cuisines, ranging from Thai and Indian to Ethiopian and Mexican. Explore the city's diverse neighborhoods, such as Willy Street or Monroe Street, and discover hidden culinary gems offering authentic and delicious dishes.
Romantic Cruises
Lake Michigan Dinner Cruise
Experience the romance of a dinner cruise on Lake Michigan, enjoying breathtaking views of the Chicago skyline as you sail along the water. Step aboard a luxurious yacht and be treated to a gourmet meal, live entertainment, and stunning views of the city's iconic landmarks.
As you sail along Lake Michigan, watch the sunset over the horizon and see the city's skyline light up, creating a magical ambiance. Dance to live music, take a moonlit stroll on the deck, or simply sit back and enjoy the company of your loved one as you glide through the water.
A dinner cruise on Lake Michigan is the perfect way to celebrate a special occasion or simply create a memorable evening with your partner.
Chicago River Architecture Tour
Embark on an architecture tour along the Chicago River and discover the city's rich architectural history while enjoying a romantic cruise. Learn about the iconic buildings that make up the city's skyline, from the historic Wrigley Building to the modernist Aqua Tower.
As you cruise along the river, your knowledgeable guide will share fascinating stories and insights about the city's architecture and its renowned architects. Marvel at the intricate details of the buildings and appreciate the craftsmanship that went into creating these iconic structures.
The Chicago River architecture tour offers a unique perspective of the city and provides a romantic and leisurely way to explore Chicago's rich architectural heritage.
---
These are just a few of the many romantic getaways available for Chicago couples. Whether you're seeking a relaxing beach vacation, an exciting urban retreat, or an outdoor adventure, there's a destination that's perfect for you and your partner. Escape the hustle and bustle of the city and indulge in a romantic getaway that will create lasting memories.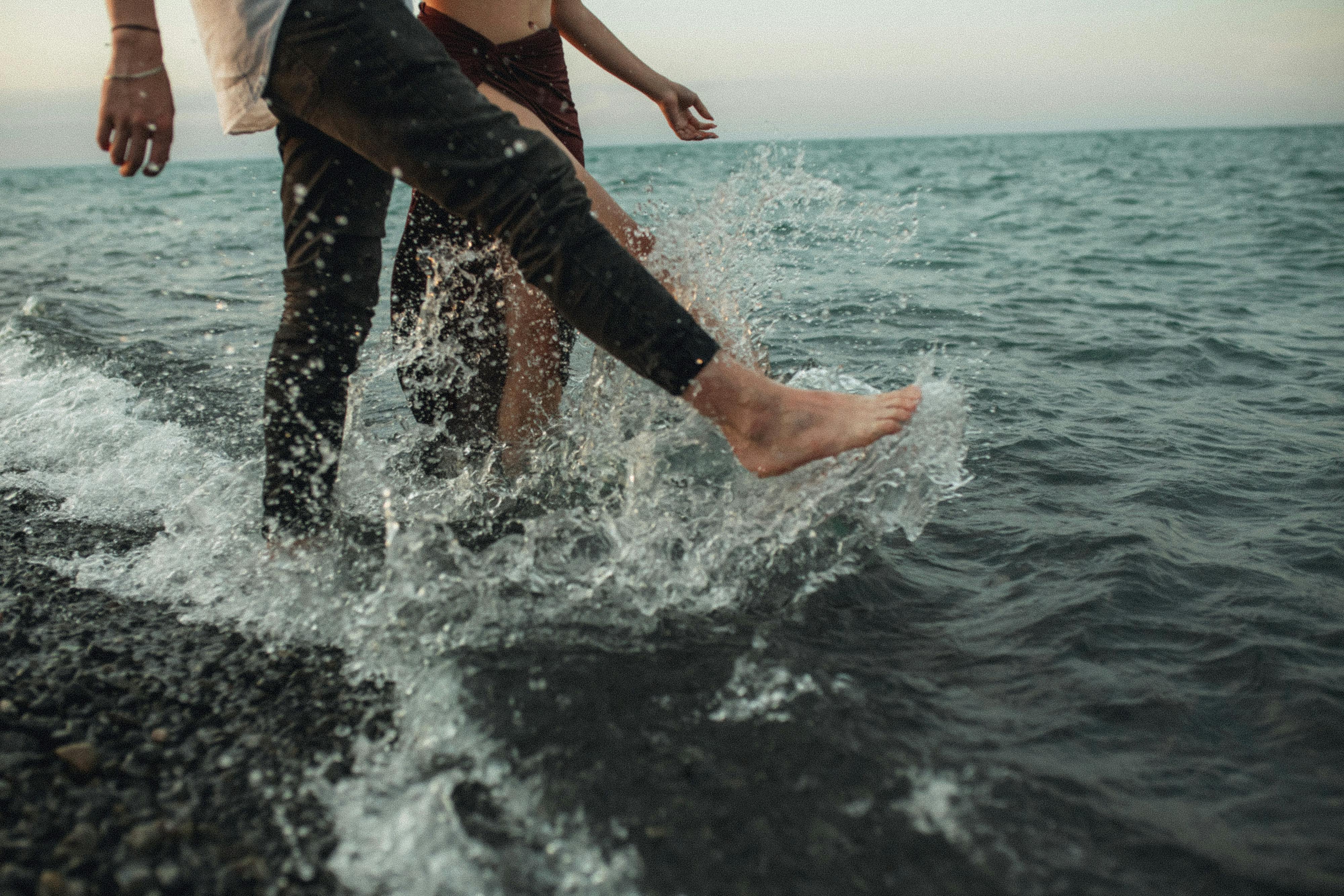 This image is property of images.pexels.com.